GlobSed: Updated Total Sediment Thickness in the World's Oceans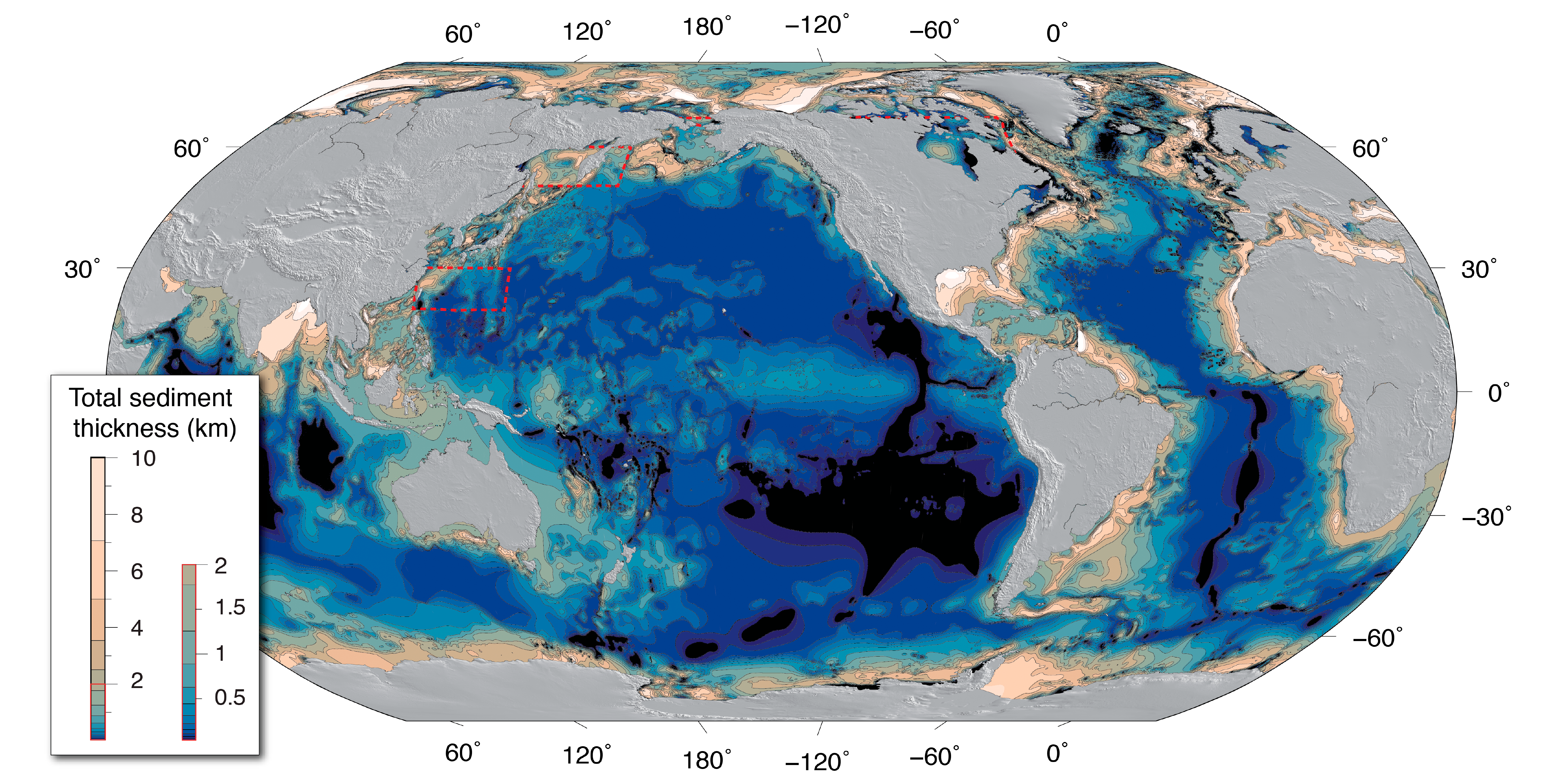 Image of total sediment thickness of the world's oceans and marginal seas, Version 3
NCEI's global ocean sediment thickness grid of Divins (2003) updated by Whittaker et al. (2013) has been updated again for the NE Atlantic, Arctic, Southern Ocean, and Mediterranean regions. The new global 5?arc?minute total sediment thickness grid, GlobSed, incorporates new data and several regional oceanic sediment thickness maps, which have been compiled and published for the, (1) NE Atlantic (Funck et al., 2017; Hopper et al., 2014), (2) Mediterranean (Molinari and Morelli, 2011), (3) Arctic (Petrov et al., 2016), (4) Weddell Sea (Huang et al., 2014), and (5) the Ross Sea, Amundsen Sea, and Bellingshausen Sea sectors off West Antarctica (Lindeque et al., 2016; Wobbe et al., 2014). This version also includes updates in the White Sea region based on the VSEGEI map of Orlov and Fedorov (2001).
Cite this dataset when used as a source.
gov.noaa.ngdc.mgg.geophysics:G01065_v3
Download Data
Distribution Formats

netCDF (Version: 3)

File Specification: binary grid created using GMT (Generic Mapping Tools)
File Compression: zip

ASCII xyz (Version: 3)

File Specification: ASCII text version, XYZ file contains the position of the center of each cell
File Compression: zip

ArcGIS (Version: 3)

File Specification: ArcGIS
File Compression: zip

Distributor
User Services


DOC/NOAA/NESDIS/NCEI > National Centers for Environmental Information, NESDIS, NOAA, U.S. Department of Commerce


303-497-6826
ngdc.info@noaa.gov
Dataset Point of Contact
Eivind Straume
The Centre for Earth Evolution and Dynamics (CEED), University of Oslo, Norway
+47 97193263
e.o.straume@geo.uio.no

Time Period
Spatial Bounding Box Coordinates

N: 90.0000

S: -90

E: 180

W: -180

Spatial Coverage Map
Associated Resources

GlobSed: Updated Total Sediment Thickness in the World's Oceans
Publication Dates
Edition
Version 3
Data Presentation Form
Digital model - multi-dimensional digital representation of a feature, process, etc.

Dataset Progress Status
Complete - production of the data has been completed
Data Update Frequency
As needed
Purpose
GlobSed covers a larger area than NCEI?s previous global grids (Divins, 2003; Whittaker et al. 2013), and the new updates results in a 29.7% increase in estimated total oceanic sediment volume.
Originators

Eivind Straume


The Centre for Earth Evolution and Dynamics (CEED), University of Oslo, Norway

Distributors

User Services


DOC/NOAA/NESDIS/NCEI > National Centers for Environmental Information, NESDIS, NOAA, U.S. Department of Commerce

Publishers

NOAA National Centers for Environmental Information
Theme keywords

Global Change Master Directory (GCMD) Science Keywords

EARTH SCIENCE>OCEANS>Marine Sediments

Uncontrolled Keywords

NASA/GCMD Data Resolution Keywords

H : 1 km - < 10 km or approximately .01 degree - < .09 degree
V : 1 meter - < 10 meters

Data Center keywords

Global Change Master Directory (GCMD) Data Center Keywords

DOC/NOAA/NESDIS/NCEI > National Centers for Environmental Information, NESDIS, NOAA, U.S. Department of Commerce
DOC/NOAA/NESDIS/NGDC > National Geophysical Data Center, NESDIS, NOAA, U.S. Department of Commerce

Place keywords

Global Change Master Directory (GCMD) Location Keywords

Ocean>Atlantic Ocean
Ocean>Indian Ocean
Ocean>Pacific Ocean
Ocean>Southern Ocean
Vertical Location>Sea Floor
Use Constraints
Access Constraints

Distribution liability: NOAA and NCEI make no warranty, expressed or implied, regarding these data, nor does the fact of distribution constitute such a warranty. NOAA and NCEI cannot assume liability for any damages caused by any errors or omissions in these data. If appropriate, NCEI can only certify that the data it distributes are an authentic copy of the records that were accepted for inclusion in the NCEI archives.

Fees
Lineage information for: repository

| | |
| --- | --- |
| Processing Steps | 2015-04-22T00:00:00 - NOAA created the National Centers for Environmental Information (NCEI) by merging NOAA's National Climatic Data Center (NCDC), National Geophysical Data Center (NGDC), and National Oceanographic Data Center (NODC), including the National Coastal Data Development Center (NCDDC), per the Consolidated and Further Continuing Appropriations Act, 2015, Public Law 113-235. NCEI launched publicly on April 22, 2015. |
Last Modified: 2019-05-13