National Marine Fisheries Service Grain Size Data from the Baltimore Canyon Trough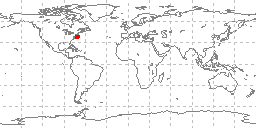 sample locations in study area
Grain size analyses produced by Robert Reid of the NOAA National Marine Fisheries Service for the NOAA/BLM Outer Continental Shelf Mid-Atlantic Project, Baltimore Canyon Trough Area. Grain size analyses were originally contributed in the historic NODC 003 format for 113 sea floor samples collected from May 22-27, 1974 by the Mt. Mitchell on cruise BC7401. Data include collecting institution, ship, cruise, sample id, latitude/longitude, date of collection, water depth, sampling device, method of analysis, sample weight, sampled interval, raw weight percentages of sediment, within a given phi range. Some samples also have percentages of total gravel, sand, silt, clay, and statistical measurements such as mean, median, skewness, kurtosis, and standard deviation of grain size. These data are part of the larger NGDC digital grain size database.
Cite this dataset when used as a source.
gov.noaa.ngdc.mgg.geology:G02897
Download Data
Distribution Formats
Distributor
Data Manager


DOC/NOAA/NESDIS/NCEI > National Centers for Environmental Information, NESDIS, NOAA, U.S. Department of Commerce


(303) 497-6338
geology.info@noaa.gov
Dataset Point of Contact
Marine Geology Data Manager
Marine Geology Data Manager
DOC/NOAA/NESDIS/NCEI > National Centers for Environmental Information, NESDIS, NOAA, U.S. Department of Commerce
(303) 497-4603
geology.info@noaa.gov

Coverage Description
Northern Atlantic Ocean, Baltimore Canyon Trough
Time Period
1974-05-22 to 1974-05-27
Spatial Reference System
urn:ogc:def:crs:EPSG:4326
Spatial Bounding Box Coordinates

N: 39.513

S: 38.636

E: -70.021

W: -73.63

Spatial Coverage Map
General Documentation
Associated Resources

National Geophysical Data Center (1976): The NGDC Seafloor Sediment Grain Size Database. NOAA National Centers for Environmental Information. doi:10.7289/V5G44N6W
Resource title not available.

Parent Archive
Information about the Marine Geology Data Archive at NCEI.

NOAA/NCEI Marine Geology WAF
Parent ID (indicates this is related to other data):

gov.noaa.ngdc:Marine_Geology
Publication Dates

publication: 1982-06-01
revision: 1982-06-01

Edition
First
Data Presentation Form
Digital table - digital representation of facts or figures systematically displayed, especially in columns

Dataset Progress Status
Complete - production of the data has been completed
Data Update Frequency
Not planned - Completed data set, no additions planned.
Supplemental Information

grain size data in the 073 format, added to the NGDC grainsize database

Purpose
environmental research
Use Limitations

Please cite the originator of the data set, the date downloaded, and the National Centers for Environmental Information, NOAA, as the source of the data.

Produced by the NOAA National Centers for Environmental Information. Not subject to copyright protection within the United States.
Originators

Robert Reid


NOAA-National Marine Fisheries Service (NMFS)

Virginia Institute of Marine Sciences (VIMS)

Publishers

NOAA National Centers for Environmental Information

Acknowledgments

Robert Reid, NOAA-National Marine Fisheries Service, BLM and NOAA funding
Theme keywords

Library of Congress Subject Headings

Scientific archives
Electronic records
Oceanography
Ocean bottom
Geology
Submarine geology
Marine sediments

SeaDataNet Common Vocabularies

USGS Science Topics

Sea-floor characteristics

Global Change Master Directory (GCMD) Science Keywords

EARTH SCIENCE > Oceans > Marine Sediments
EARTH SCIENCE > Paleoclimate > Ocean/Lake Records > Sediments
EARTH SCIENCE > OCEANS > Coastal Processes > Sedimentation
EARTH SCIENCE > Oceans > Marine Sediments > Sedimentary Textures
EARTH SCIENCE > Oceans > Marine Environment Monitoring

Data Center keywords

NASA/GCMD Data Center Keywords

DOC/NOAA/NESDIS/NCEI > National Centers for Environmental Information, NESDIS, NOAA, U.S. Department of Commerce
DOC/NOAA/NESDIS/NGDC > National Geophysical Data Center, NESDIS, NOAA, U.S. Department of Commerce

Platform keywords

Global Change Master Directory (GCMD) Platform Keywords

In Situ Ocean-based Platforms > SHIPS

Instrument keywords

Global Change Master Directory (GCMD) Instrument Keywords

In Situ/Laboratory Instruments > Corers > CORING DEVICES
In Situ/Laboratory Instruments > Samplers > Grabbers/Traps/Collectors > GRAB SAMPLERS

Place keywords

Global Change Master Directory (GCMD) Location Keywords

OCEAN > ATLANTIC OCEAN
VERTICAL LOCATION > SEA FLOOR

Project keywords

Global Change Master Directory (GCMD) Project Keywords

OCS > Outer Continental Shelf Program
ICSU-WDS > International Council for Science - World Data System

NODC PROJECT NAMES THESAURUS

OUTER CONTINENTAL SHELF BALTIMORE CANYON STUDY

NODC PROJECT NAMES THESAURUS

OUTER CONTINENTAL SHELF - MID ATLANTIC (OCS-MID ATLANTIC)
Use Constraints

While every effort has been made to ensure that these data are accurate and reliable within the limits of the current state of the art, NOAA cannot assume liability for any damages caused by any errors or omissions in the data, nor as a result of the failure of the data to function on a particular system. NOAA makes no warranty, expressed or implied, nor does the fact of distribution constitute such a warranty.

Access Constraints

Access to this dataset is unrestricted.

Fees
Lineage information for: dataset

| | |
| --- | --- |
| Lineage Statement | These data were contributed by the originator to NOAA's former National Oceanographic Data Center (NODC) and may be part of a larger compilation archived as oceanographic data by NCEI. Data were received from NODC in the historic 003 format and translated to the 073 grain size format and added to the digital grain size database. Data were received on nine track magnetic tape in ASCII form, record size 109, blocking 9592 characters/block, as two files: 1) tape label; 2) 003 sediment data for cruise BC7401, the NODC unique identifier assigned was TR3655. |
| Processing Environment | Native Dataset Environment: ASCII text |
| Source Datasets | |
Lineage information for: repository

| | |
| --- | --- |
| Processing Steps | 2015-04-22T00:00:00 - NOAA created the National Centers for Environmental Information (NCEI) by merging NOAA's National Climatic Data Center (NCDC), National Geophysical Data Center (NGDC), and National Oceanographic Data Center (NODC), including the National Coastal Data Development Center (NCDDC), per the Consolidated and Further Continuing Appropriations Act, 2015, Public Law 113-235. NCEI launched publicly on April 22, 2015. |
Acquisition Information (collection)
Instrument

In Situ/Laboratory Instruments
In Situ/Laboratory Instruments

Platform
Last Modified: 2015-12-31